On January 9th, 2023, the University of Southern California's (USC) Suzanne-Dworak-Peck School of Social Work, released an email to its staff and students. The USC email informed students of an immediate change in campus policy and personal behavior, "in solidarity with universities across the nation." These changes included the suppression of free speech, regulation of thought, and encouragement of future self-censorship. The email revealed that the University of Southern California (USC) will now designate the word "field" as hate speech, proclaiming it banned from their campus. It is evident that the University of Southern California hopes this depraved selective deletion of the English language will infect its way into institutions across America.
In fact, there is nothing special about the word "field." Instead, the Suzanna-Dworak-Peck School of Social Work chose a target word and built a campaign against it. Instead of bringing awareness to the horrors of racism, the University of Southern California seeks to exploit past atrocities in an attempt to reap publicity and profit. This is not the first time private organizations have attempted to subvert the English language to incite division. Back in October 2021, PETA attempted to ban the word "bullpen" in baseball, proclaiming it was offensive to bulls[1].
What is a "Field?"
Merriam-Webster Dictionary reveals the definition of the offensive word "field" as,
"an open land area free of woods and buildings"
"an area of land marked by the presence of particular objects or features"
"an area of cleared enclosed land used for cultivation or pasture"
"land containing a natural resource"
"the place where a battle is fought"
Nowhere in its context does the word "field" insinuate classism, racism, or discrimination of any kind. Instead, it is evident that the University of Southern California is reaching for publicity while forcing students on their campus to adhere to a reduction in acceptable language. In addition, students should remain conscious of exactly why they are not to emit the forbidden word. That reason, of course, is racism. The same racism that's now propagated by the institutions claiming they are themselves preventing it.
Practicum Education Department
The email to staff and students of the University of Southern California (USC) reads:
"As we enter 2023, we would like to share a change we are making at the Suzanne-Dworak-Peck School of Social Work to ensure our use of inclusive language and practice. Specifically, we have decided to remove the term 'field' from our curriculum and practice and replace it with 'practicum' This change supports anti-racist social work practice by replacing language that could be considered anti-Black or anti-immigrant in favor of inclusive language. Language can be powerful, and phrases such as 'going into the field' or 'field work' may have connotations for descendants of slavery and immigrant workers that are not benign."

"In solidarity with universities across the nation, our goal is not just to change language but to honor and acknowledge inclusion and reject white supremacy, anti-immigrant and anti-blackness ideologies. Words are powerful, but even more so is action."

"We know that changing terminology can be challenging, and a complete transition will take some time, but we thank you in advance for joining us in this effort and for your patience as we transition."
Critics swiftly responded with concern, asking important questions on behalf of the people effected by this change.
Board Certified MD Ophthalmologist & PhD research scientist Houman David Hemmati asked on Twitter, "Is this with merit or empty virtue signaling?[2]"
Christina Pushaw, herself an alumna of USC, responded stating[3] "Wow, I went to USC and never thought it was particularly woke. Of course that was 10 years ago now… and I didn't study social work"
Life In a World Without 'Field'
It is safe to say that if this inane method of public accommodation continues to progress, it will soon expand to infect the readjustment of speech in Schools, Sports, Movies, Farming, and even our Military. Activism that often begins endemically, eventually spreads throughout the nation as progressive institutions align themselves with various narratives to win popularity, and financially benefit from the nefarious regime of suppression. Below is the extent of the horrors that will produce a shift in language as a result of these measures, should they extend beyond the USC campus.
Schools:
No longer will school children participate in "Fieldtrips," instead they now must submit to "Practicumtrips."
Colleges will no longer offer "Subfields," instead adjusting to "Subpracticums"
Students will no longer be told what to expect when "in the field," instead being taught what to expect "in the practicum."
Sports:
"Playfields" will be retitled "Play Practicums"
Infields, Midfields, and Outfields will be renamed to "InPracticums," "MidPracticums," and "OutPracticums."
Football Fields, Baseball Fields, and Soccer Fields will be referred to as "Sports Practicums"
"Misfielding" will be changed to "Mispracticumming"
Movies:
"Field of Dreams," "The Man From Left Field," "Lilies of the Field," "Love Field," "The Onion Field," "Black Field," "Arlington: Field of Honor," "The Killing Field, and The Field," among others, will all be forced to comply with these demands.
According to MovieFlavor.com, there are at least 122 movies that will need to be re-titled. Each must adhere to the demands of a fieldless public accommodation[4].
Directors, Models, Actors, and Actresses will no longer be allowed to discuss "Chesterfields," replacing their words with "Chesterpracticums."
Medicine:
"Field of Vision" will be replaced with "Practicum of Vision"
Scholars Majoring in a particular subject, such as medicine, can no longer describe themselves as Majoring in the "Medical field," instead replacing it with "Medical Practicum"
"Field Research" is no longer conducted, instead naming it "Practicum Research"
Farming:
"Field years" will become "Practicum year"
"Field corn" will be referred to as "Practicum corn"
"Hayfields" and "Grainfields" will be changed to "Hay Practicums" and "Grain Practicums"
"Cane Fields" and "Corn Fields" will become "Cane Practicums" and "Corn Practicums"
"Fieldstones" will also be found discriminative, and be renamed to "Practicumstones."
"Snowfields" will be stripped of their title, becoming "Snow Practicums"
Military:
"Battlefields" are forced to be named "Battle Practicums,"
"Minefields" are renamed "Mine Practicums,"
"Airfields" are designated as "Air Practicums"
"Field stripping" will be called "Practicum stripping"
Business:
"Greenfield Projects" become "Green Practicum Projects"
"Goldfields" are changed to "Gold Practicums"
Conclusion
While it can be seen as virtuous that institutions wish to readdress the original sin of our nation, oftentimes "revolutionary measures" only make things worse. Today, all American citizens agree that slavery is wrong, and will never again be a part of our nation. This consensus extends to racism, as the main purveyors of civil division are the institutional bureaucracies and federal Establishments of today. The email released at the University of Southern California is no different, representing yet another instance of the abhorrent behavior projected as a foundational reassessment. Should institutions force students to set the trend, conforming to ridiculous, and often unconstitutional, requirements at the expense of their education? How long will it be until other institutions, organizations, and corporations begin to parrot the narrative, mirroring a segregated environment for those who fall under their authority?
Read the full email below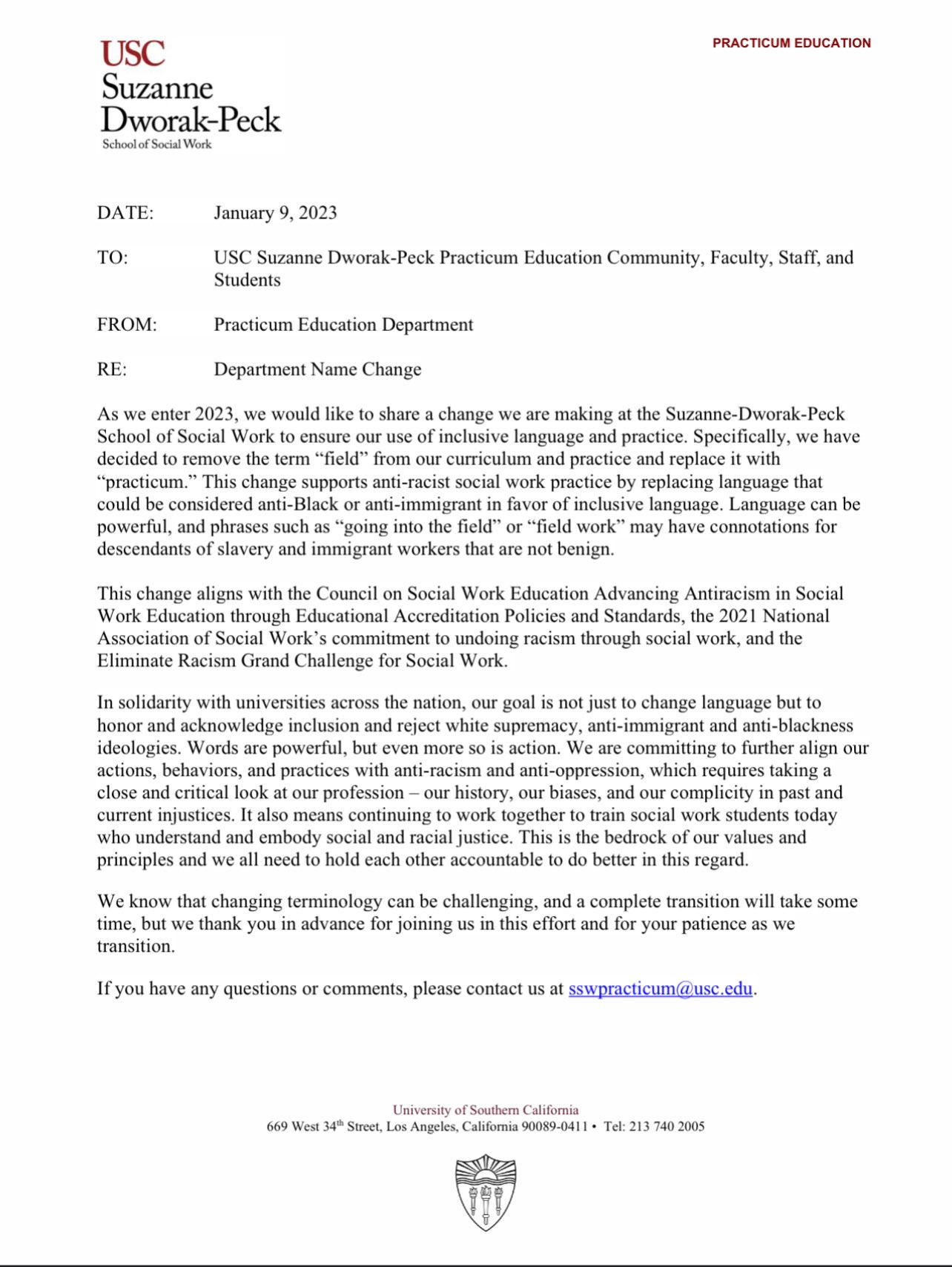 ---
[1] https://jmbk.news/2021/10/30/peta-attempts-to-censor-baseball/
[2] ttps://twitter.com/houmanhemmati/status/1612635584539033603
[3] ttps://twitter.com/ChristinaPushaw/status/1612799088952762370